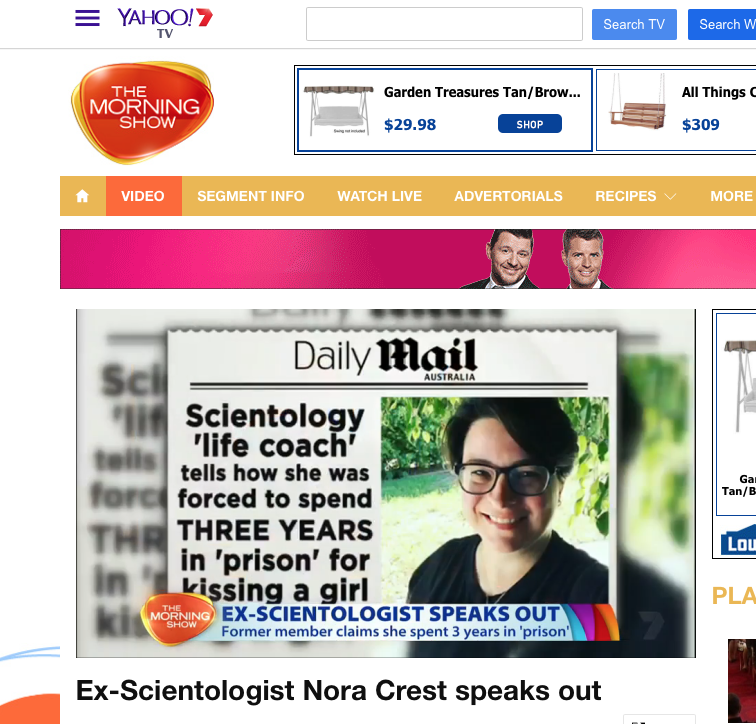 Well it has been a while since I have posted here. There has been A LOT going on personally with me and behind the scenes of getting the word out there about Scientology.
Recently and article that I had been working to get out since last October was released. The Daily Mail did an EXTRAORDINARILY wonderful piece about me. Which you can read here:
http://www.dailymail.co.uk/news/article-3495181/Scientology-life-coach-John-Travolta-Tom-Cruise-s-children-tells-forced-spend-THREE-YEARS-prison-kissing-girl-escaped-Church-downing-bottle-bleach.html
That story went VIRAL being picked up by countless news outlets online. From that article I was asked on several radio shows and even interviews for THE MORNING SHOW in Australia.
https://au.tv.yahoo.com/the-morning-show/video/watch/31169826/ex-scientologist-nora-crest-speaks-out/#page1
And now this morning Tony Ortega and his amazing Blog THE UNDERGROUND BUNKER have featured my interview with Allison Weiner on her show Media Mayhem.