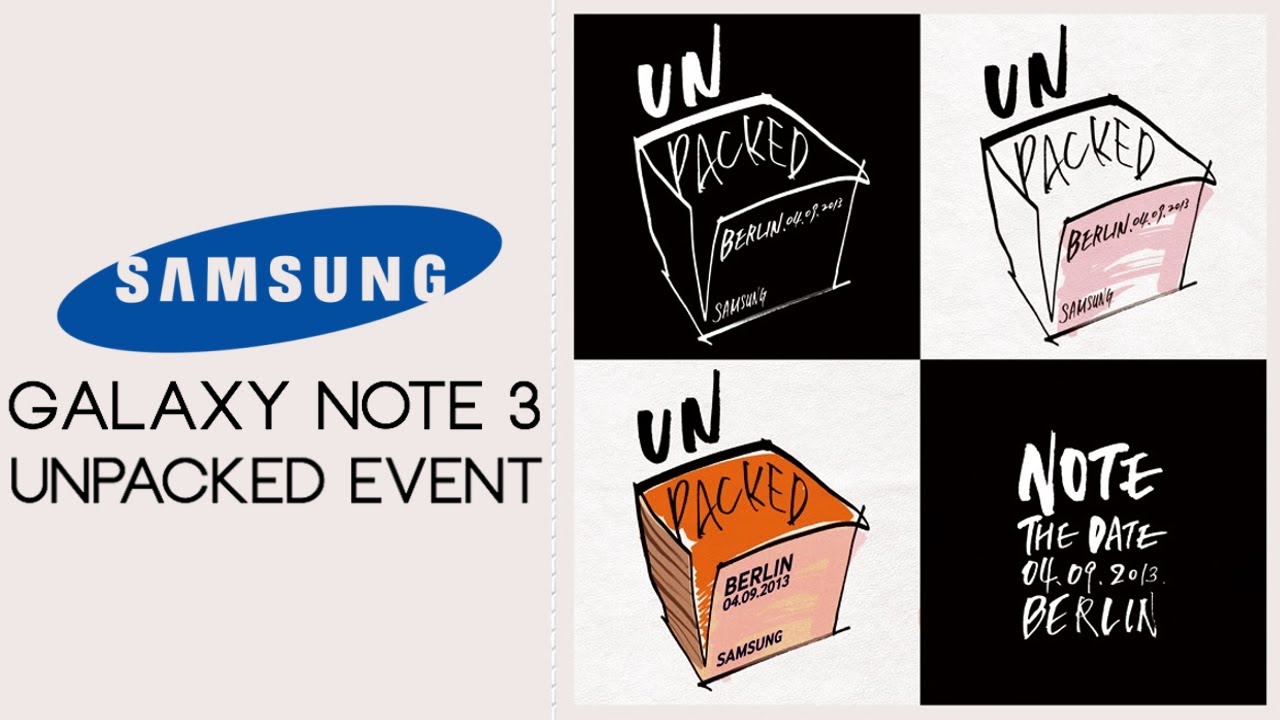 Today I watched the entire Samsung Event LIVE from Berlin.
Let's see what Samsung is "Unpacking" here with this event!
First up is the next evolution of the Galaxy Note. The Galaxy Note 3.
It is said to be Slimmer, Lighter, Larger, Faster, Longer Battery Life.
You get true multitasking with being able to use more than one application at once.
It is coming with Samsung Knox new security system.
They are offering it with Catagory 4 LTE over multiple Carriers.
And then they bring out the Galaxy Gear. A watch the works in tandem with your phone. You can make and receive calls through the phone hands free. Gives you Text messages and emails. Giving you "Smart Freedom" to work with your Galaxy Note 3.
Then the President of Mobile busted out the Note 10.1 edition. It has all the capability of the Note 3 but on a larger screen.
The Galaxy Note 3 and Gear will be launching on September 25th and the Note 10.1 launching in October.
Now comes a more comprehensive demonstration of the power of these new devices.
They didn't make the device wider but they made the screen wider. There is a leather back that hugs your skin. The colors are Black, White and Pink. The S Pen fits in the top. There are various cases and flip covers that you can get for it.
Then they went into the S Pen features which are integrated into more functions than just using it as a pen.
They break down the "Action Memo" where you can write a memo with a name and number and the handwriting recognition software can translate the name and number into a contact. Pretty neat.
Using the "Circle" function you can save any content you want scrapbook style in your phone that you categorize. And it captures not only the small section of the webpage that you were keeping but the original link that the content came from.
There is a new S note with a more intuitive than before, easier layering and writing capability. The content will sync to your PC, Tablet or another phone. You get Evernote premium for 1 year.
Showing the multitasking capability they do a demo of being able to use the same app twice at the same time. The demo was chatting to two people at once, side by side and being able to copy and paste conversations between them with ease.
Pen Window is another way to make two apps run at the same time. You draw a box, whatever size you want and then you can make the other app run in the box you have just created.
New native app "My Magazine" collects all the things you want to follow and places them all in one place.
Now there is Multi Vision for the note. You can put together 2 or more Note 3s together to create a bigger screen to watch something on video.
The next demo is all about "Gear" and how it works with your phone so that you can get all notifications without taking your phone out of your pocket.
When you receive an email and look at it on your gear if you need to look at it on a bigger screen you just pick up your Note and it is automatically displayed there. There is voice command capability and motion recognition. When you get a call, you just raise your hand to your head and you are talking. Gear has a camera as well. You can point your wrist and take a picture. But it is moving toward integrations with augmented reality, like taking a picture of a sign in a foreign language and having it translate that for you. There are a series of apps that work along with it too.
Back to the Note 3 13mp camera on the back and 9mp on the front. You can take 4K videos from the phone. LED flash and stabilizer. 24 bit Audio files. Comes standard with 3 gigs of Ram. Battery life is 40% more or 4 hours longer.
Samsung Knox security keeps your private data private. It has a 2.4 Quad core processor and will be available in October for sale.
Then they start to talk about the Galaxy Note 10.1 2014 tablet. There is a new backing for the tablet to match the Note 3. It is lighter than previous editions. Ultra High Definition Screen. Now they will have Samsung hub for Tablets. Multitasking works just a seamlessly with the Tablet. The S Pen works the same on the Tablet. Running Jelly Bean 4.3.