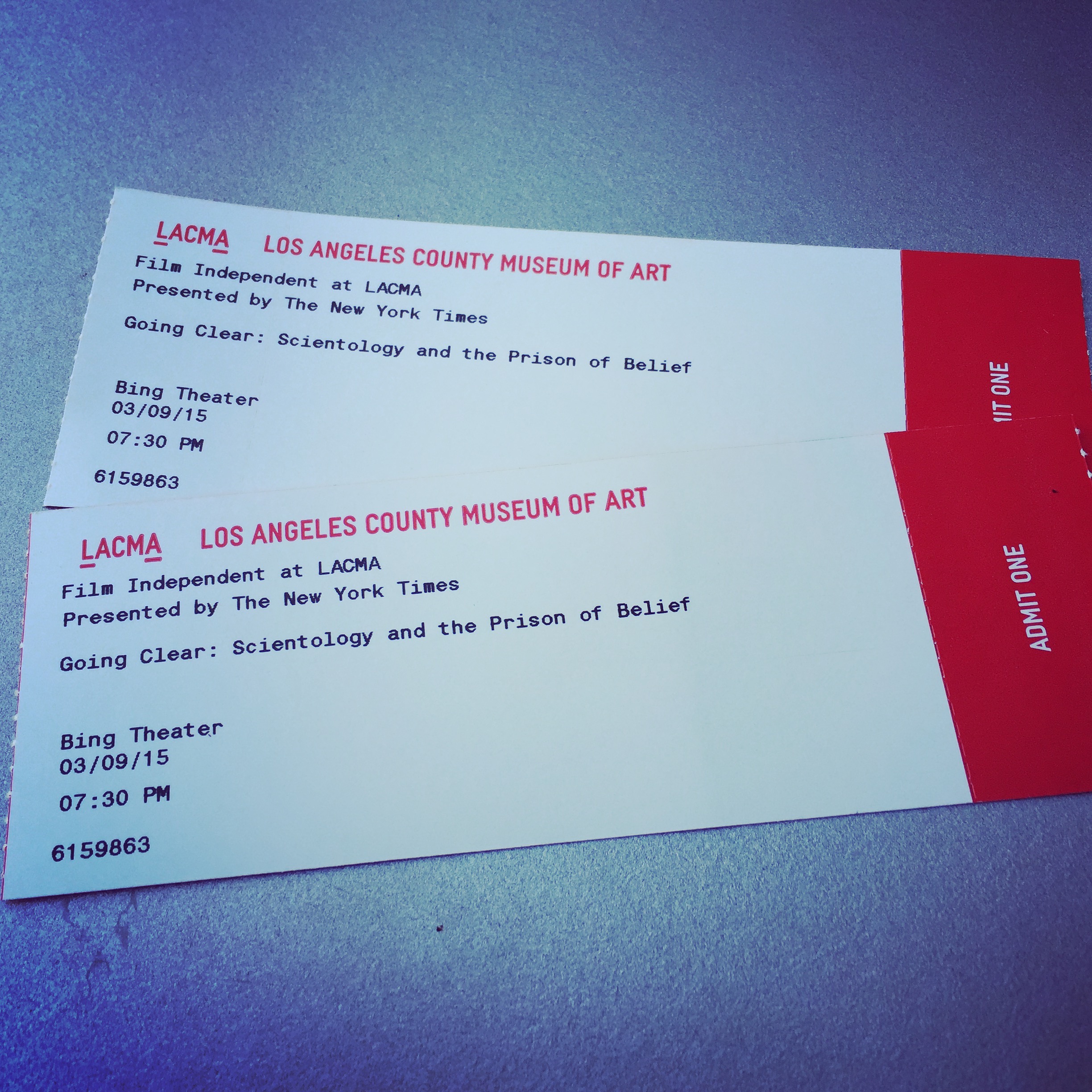 Having grown up in Scientology I was steeling myself to see on the big screen the hard truths about my former religion. I knew that there would be things that would make me uncomfortable and some that might make me laugh so I was ready for it all.
My mother and I arrived at LACMA just before 4pm. The showing started at 7:30. We wanted to beat the traffic, get parking and get some food and a good spot in line. So when we did line up, just after 5pm we were the 5th and 6th people in line. We were sitting next to a lovely young couple, Liz and Ryan and another gentleman named Rob. Ryan asked us if we had read the Lawrence Wright's book "Going Clear" I said, "My mother has but I lived it. I didn't need to read about it." Which then sparked a 2 1/2 hour Q and A session with me and my mother about our years in Scientology. They were very keen to hear all our stories and ask tons of questions. It was really nice. There were a couple of people in front of them that kept turning around scowling at us and getting on their phones (Seriously OLD ass flip phones) and possibly taking some pictures of us. I didn't really care because nothing I said was untrue. So record and report away.
When the lights dimmed at LACMA's Bing Theater and the film was about to start I started clapping furiously. I was the only one for about 5 seconds, in that eternity I realized, I FUCKING HATE CLAPPING. It is one thing that you are forced to do CONSTANTLY in Scientology. Somebody shares a realization in the classroom, clap. Somebody achieves a new status, clap. Go to an event, EVERY TIME A STATISTIC IS REVEALED CLAP. If COB says something AMAZING, STAND and CLAP. Someone thanks L Ron Hubbard, STAND and clap and give three cheers. So much fucking clapping. It was in that moment that I was genuinely happy about something clapping that I realized that it was one of the many things that had been stolen from me. An ability to genuinely show happiness and exuberance without dread and regret.
Then the film came. It was a PACKED house. Filled with a few celebrities, Joel Egerton, Camryn Manheim and a few others. Also Tom Devoct, and Spanky Taylor who are in the film were there. Before the film started I saw Larry Anderson. He was the star of a few of Scientology's Technical Training films and he left a few years ago, tape recording his ordeal for posterity. I spoke with him before the film started and thanked him for doing what he did and told him that he had helped so many people. Mostly the people who were there were older LA types who were members of Film Independent who were never in Scientology but were fascinated or who just wanted to see the hottest ticket to come out of Sundance. Before the lights had dimmed there was electricity in the air. People were talking and looking around and getting very excited about the whole thing.
If you have read the book it is a very good visual representation of it. It is an excellent movie over all. Very well put together. An excellent combination of the live interviews that Alex does with the people featured in the film combined with Church event and promotional footage and news reel info. It paints a very accurate and scary picture of a secretive cult that lures you in and takes from you your self determinism with promises of powers and improvement.
It also goes deeper than any other film that I have seen, about L Ron Hubbard, you get to see the what happened to him leading up to him creating Scientology. The hardest part of viewing this film for me was when they spoke of the Sea Organization and signing a Billion Year Contract. They showed the contract on the screen. I immediately became filled with anxiety and dread. I was embarrassed as a majority of the film goers laughed, loudly, at the idea of signing away a BILLION years of your life. It made me angry. When I made that pledge I really was willing to sacrifice a billion years of my existence for the betterment of all mankind, even those assholes that were laughing. I felt like they would never make a commitment like that. To selflessly help everyone, even people they hadn't met or ones who thought they were crazy. Then I reminded myself I was no longer bound to that. I wasn't in that trap. And I got calmer. It is irrational and I know that but seeing that contract just took over an old area of my mind, one that I thought was long gone after just over a decade out of the church.
But the truth is I am constantly reminded of the church. In my frequent nightmares. In all of them I am there. Trapped in my old job trying to do everything differently but still ending up with the same terrible results. Often I wake suddenly in a panic, covered in sweat. It takes a moment but I realize I am at home, in bed with my husband and I am alright.
This film doesn't cover every aspect of what it is like to be in. It couldn't possibly in 2 hours. This film is about belief and how that can become a prison even for the most intelligent of people. It is an excellent film showing how, over time, you gradually fall into the chasm of cult like mindless behavior. It isn't instant.
Most of the attendees were never in. They were electrified. In disbelief. "How could Paul Haggis stay so long?" "Didn't he know?" I think everyone likes to think they are above any swindling. They would know better. They would NEVER fall for anything like that. They would have seen through it from the get go. They are smarter than that. It was like they were all slowing down for a gruesome crash on the highway, almost parking so they could really take in the carnage and sneer at it, "Look at those idiots! I NEVER drive like that. Only total morons would ever die so horrifically in a ridiculous crash! Hrumph!"
So I say to you, dear people, who didn't live through the absolute insanity that is Scientology, to those of you who haven't had to claw your way out of a seemingly endless abyss, kicking and screaming, fighting for your sanity and sometimes losing all your friends and family in the process, kindly, don't judge. You weren't there. You don't know what it is like. You didn't live it. You haven't lost decades of your life to a cult. You didn't maim yourself doing 16 hours a day of slave labor. Be kind. Be helpful. Be there for people who were. They need your help and your patience. They are like newborns, coming into the real world for the first time and they need your love.
I won't spoil the hardest hitting portion of the documentary, but this film flat out calls out John Travolta and Tom Cruise. I hope they step up to the mic and take responsibility for their hand in these crimes.
Who should see this movie? Everyone. Everyone who can. The real story about Scientology has been lingering in the shadows for too long and this film shines the light of truth on it like a thousand spotlights. It can't be unseen. It can't be denied or shooed away as just former disgruntled members being sour grapes. It is hard to see and hard to believe but I can tell you it is all true. And it's not even the whole story.
I spoke with both Lawrence Wright and Alex Gibney after the film to thank them both for doing this. I asked Alex if he would consider making another film about people like me, born into Scientology, one of the few who did sign that billion year contract and worked for the church and spent time on the RPF and escaped. He said that he was hearing so many stories that there was definitely another movie there. So wait for it folks, the whole story may come out. Hopefully I can get a few minutes of screen time to tell mine.