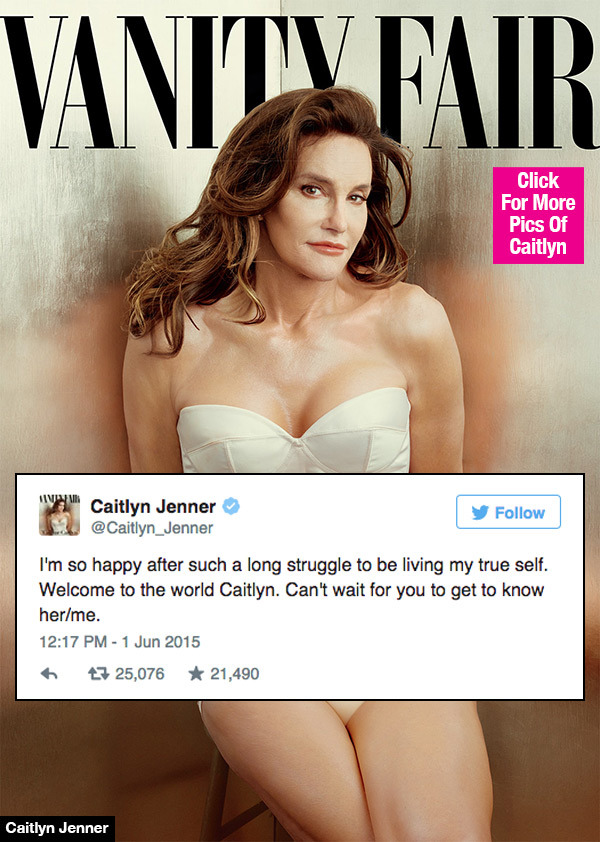 I have been biting my tongue on the Caitlyn Jenner media tidal wave. I am now going to break my silence and I am sure the blowback from this will be immense but I feel that it has to be said. Caitlyn Jenner is not a hero. Caitlyn Jenner is just a girl. 
Firstly congrats to her for finally living her truth as her true self. As a person who has put on faces and toughed out being in a bad situation and living a "lie" I get it. I do. But, and this is a HUGE but, in the 70's after Bruce (I am using her former name because she was Bruce in the 70's not because I don't acknowledge fully who she is today, but to refer to her former life as it was) had 2 kids with his FIRST wife, he came out. He told her the whole deal. He was really a woman and that is what he wanted to do. Become his true self. He had the means to transition then. His wife, after first responding with denial and therapy finally respected Bruce's choice but because she didn't want to be married to a woman, they divorced. 
While he was SEPARATED from his first wife, Bruce took up with another woman, meeting her at the Playboy mansion. He presented himself as a heterosexual man to her. Mind you this was at the same time he had just TOLD his wife that he was really a woman. He was not upfront with her. He didn't tell her his secret, instead he wined and dined this woman and married her. Again having TWO children with her. Then again after a few years he told his second wife his big secret, that he was really a woman and wanted to transition.
He got the adams apple surgery and started to take hormones. When his kids started asking why Daddy had boobs his second wife realized that she too didn't want to be married to a woman and filed for divorce.  This now makes 4 kids that were partially abandoned by him. He was not a good father to them. One ex-wife even opted to not to get child support from him. But he was not there for birthdays, christmas's, nothing.
Then he changed his mind yet again, stopping the hormone treatments. He again was presenting himself as a hetero man. Bruce meets Kris and her circus of fame and he rides that wave for YEARS and has ANOTHER TWO KIDS! Then when his final two of six children are "old enough" to understand who he really is Bruce FINALLY decides to pull the trigger on becoming his true self 30+ years later after he first revealed who he was.
He was NOT honest with the second two women that he married when he romanced them, when he married them or when he got them pregnant. He partially abandoned his first FOUR children. But none of this is being talked about. All we are hearing is how "BRAVE" Bruce was in his interview with Diane Sawyer. How Bruce/Caitlyn is a HERO for the Trans movement. A "hero" by definition is someone who does the right thing in the face of adversity, no matter the consequences, because it is RIGHT not because it is easy or convenient. I see a person who has gotten to a phase in their life where they have NOTHING to lose. So why not? It is easy to do it now. So many people have come before her. Paved the way with their blood sweat and tears and some with their lives. 
Now he is she. She is Caitlyn. As she put it in the interview with Diane Sawyer, "She" has no secrets. I get it. Caitlyn is a clean slate. She is a new person, she has just been born. And honestly, sincerely, hooray for that. Hooray that you have millions of dollars to become Caitlyn. Hooray that you get the cover of Vanity Fair. But I have a friend transitioning. Where is her parade? Where are all the parades for the THOUSANDS of transpeople out there that AREN'T reality show famous? Will Caitlyn's story make Trans less of a dirty word? I hope so. That has been FAR too long in coming. But there were plenty of REAL  TransHERO's before her. (Laverne Cox, Aydian Dowling and Kate Bornstein to name just a few.)
Caitlyn didn't invent this. She isn't the first. And she won't be the last. But in my opinion, because Caitlyn has been born into FAME, she has the responsibility and DUTY to clean up Bruce's mess and fix the mistakes that he made. Because they are HUGE and glaring. Good luck to her. My less than favorable opinion of Caitlyn has nothing to do with her Transition or that she transitioned. She is beautiful and has a new life ahead of her. BUT the road taken to her new shiny life is paved with too many lies and too many lives hurt in the process for me to jump up and down on the couch for her. She needs to make right what was done in the past. Maybe this is just my own Daddy issues talking, having been abandoned by my own father.
But as a parent I know one truth to be above all others, my happiness is tied FOREVER to the happiness of my children. There is NOTHING more important in the world than being there for my kids and being in their lives as much as I can. Nothing. Living your truth is part of that. I get that. But living your truth can never come at the cost of others. It can never come on the back of a gigantic lie. The abandonment, I am just having a really hard time moving past that. I feel that I just can't celebrate her. Because she isn't a hero. She is a beautiful woman, who I wish nothing but happiness for, but I am not baking a cake.